Loan Calculator for Bank and Personal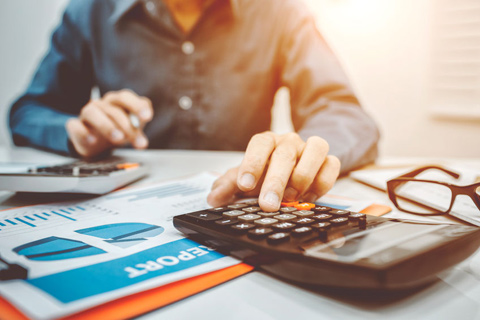 Personal loan calculators
Personal loans can be your ticket to paying off high-interest credit card debt or tackling big bills. But like all debt, personal loans are not to be taken lightly. Once you've figured out how much you need to borrow and how much you can afford to pay back each month, you can start shopping for personal loans. Personal loan calculators help you know what to expect.
Wondering if a personal loan is right for you? It's important to ask yourself why you want to borrow money. Is it to pay off bills or move to a city with more job opportunities? Is it to eliminate high-interest credit card debt? All of these are scenarios where it might make sense to consider an affordable personal loan.
What do we mean by affordable?
True affordability is a factor of both the personal loan interest rate and the personal loan payments over time. Even a loan with a low interest rate could leave you with monthly payments that are higher than you can afford. Some personal loans come with variable interest rates that can increase after a period of time. These loans are riskier than those with fixed interest rates. If you are looking at variable interest rate loans it's a good idea to ensure that you will be able to afford it even if the interest rate reaches the highest point possible in terms.
Consider the Interest Rate First
Your likelihood of being approved for a personal loan at a lower interest rate will increase with your credit score. It's a good idea to start improving your credit score if you anticipate needing a personal loan in the future. Keep your credit utilisation ratio below 30%, dispute any mistakes in your credit report, and pay your obligations on time.
When you're prepared to browse around for a personal loan, don't limit your search to one place. Compare the interest rates offered by traditional banks, online-only lenders, credit unions, and peer-to-peer lending platforms.
Conclusion
Every debt involves some risk. Hold out for the greatest offer you can get if you choose to shop around for a personal loan. Yes, payday loans and instalment loans provide fast fixes, but these loans can easily become unmanageable. When looking for a loan, even people with terrible credit can frequently get a better bargain on a peer-to-peer website than they can from a predatory lender. Use a personal loan calculator to explore your possibilities and decide for yourself.
More Calculators:
Win Percentage Calculator

Review for Loan Calculator